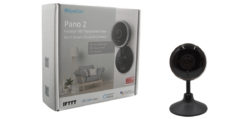 Practical testing …
We have shown how to install the SpotCam Pano 2 in our SpotCam Pano 2 instructions. After that you can see directly a picture in the browser.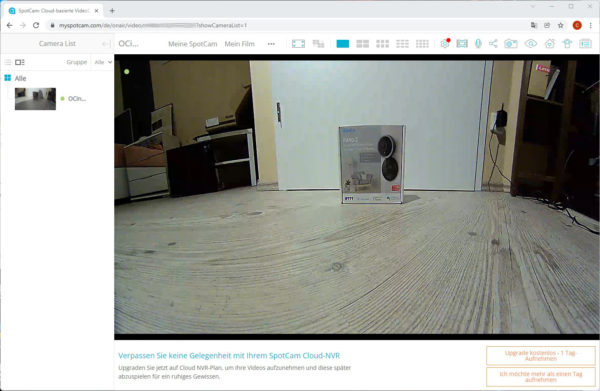 Speaking of light, the Pano 2 also works well without it, by the way.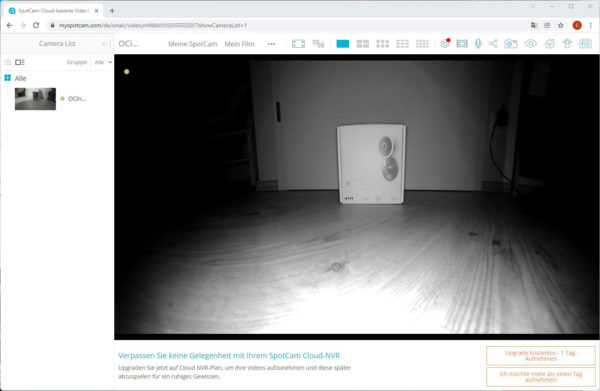 Since we have already finished setting up the camera, all we need to do is log in to the Android app or iOS app with the account we set up earlier and we will see our camera.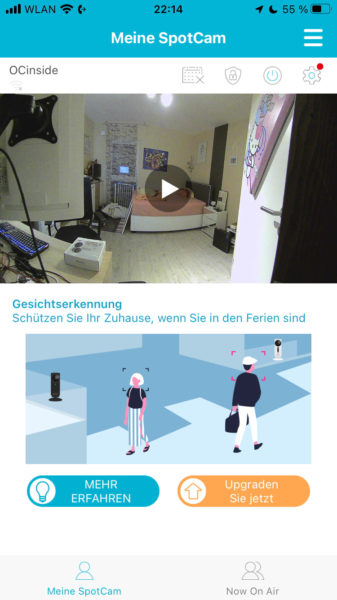 Once the connection is established via the app, the picture can be seen almost without delay. As you can see from the picture, SpotCam offers 24 hours of recording capacity in their cloud for free.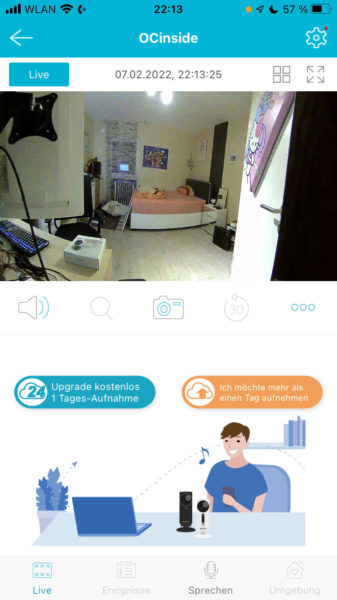 Next, let's take a look at the settings. All you have to do is click on the cogwheel. Basically, you can find everything your heart desires here. In addition to automatic night vision, video rotation, flicker filter and image quality, you can also deactivate the status LED here. This has the advantage of making the camera virtually invisible in the dark.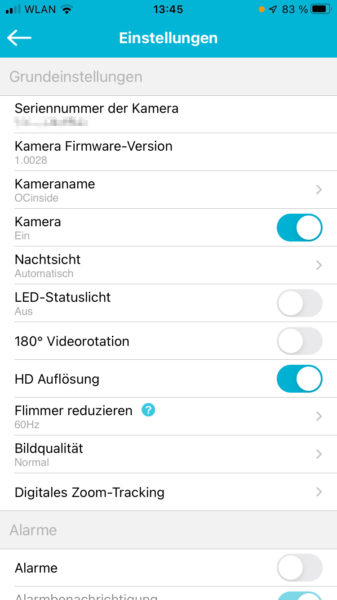 If you scroll down a bit further, you can define alarms.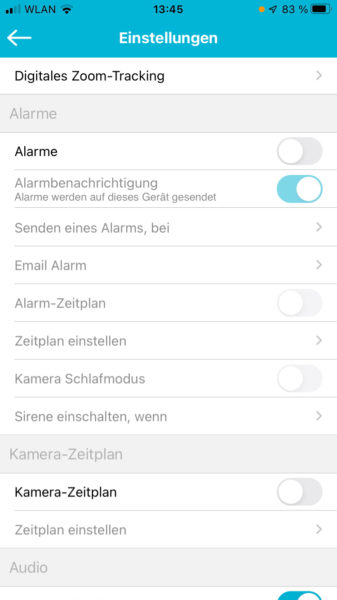 By the way, here you can let off steam to your heart's content …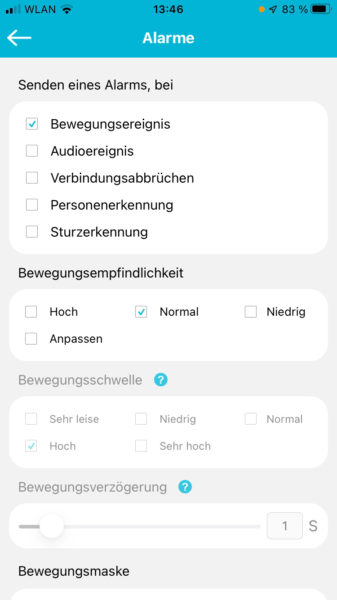 … because pretty much everything is covered here. Especially worth mentioning here are the integrated alarm for unknown persons and the fall detection!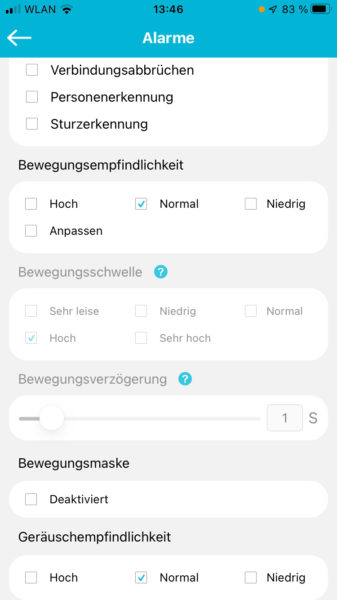 And of course, mails can be sent automatically as soon as an alarm is triggered. If one mail address is not enough, you can enter more than one.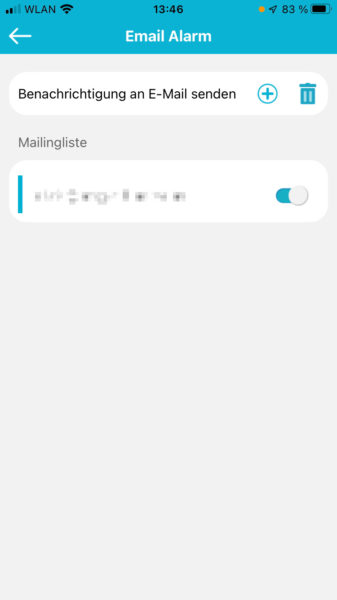 But back to the settings …
Even further down, you can also set the intensity of the microphone and the built-in speaker. We had to play around a bit with the microphone until we got a decent sound. At half intensity, the microphone tends to hiss even in silence.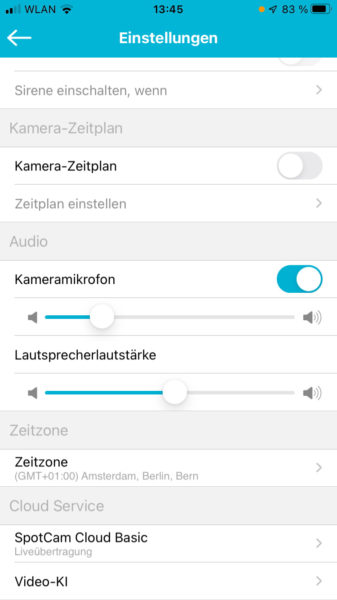 By the way, the siren function is also very convenient. As soon as a defined event occurs, the camera emits a sound. This can be defined in volume and duration.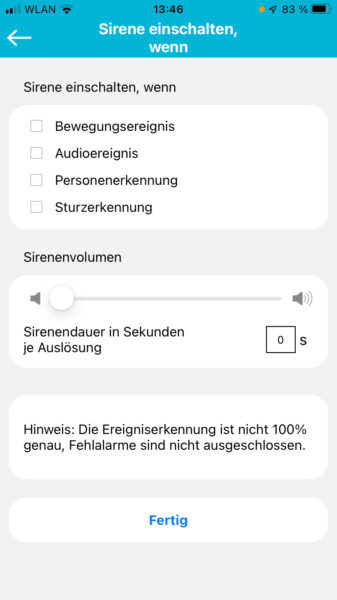 If all this is not enough, you can of course buy various additional functions.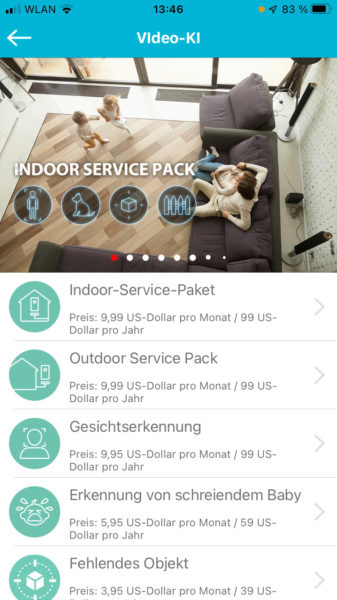 These can then be used for all SpotCam cameras.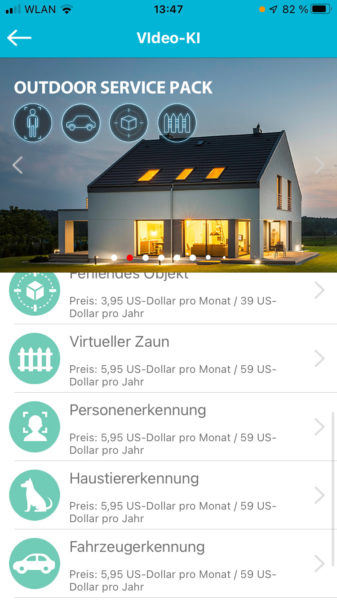 Now we come to what the Pano 2 cannot do: Work self-sufficiently!
Anyone who wants to use the SpotCam Pano 2 is dependent on a good and fail-safe Internet connection, since the data is stored without exception in SpotCam's cloud.
Unfortunately, the SpotCam Pano 2 cannot address other alternative storage options, such as its own cloud server or a local FTP server in its own network.
There is also no way to access the security camera locally via the web interface and then save it to a NAS via rtsp stream, and a port scan of the Pano 2 only revealed closed ports.
SpotCam Pano 2 power consumption …
By the way, the SpotCam Pano 2 power consumption was about 3 watts in idle mode with WLAN connection.
Now we come to the SpotCam Pano 2 Result and general impression …