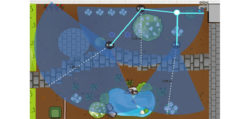 The next warmer days with longer dry spells are sure to come! And that's why today on Funkyhome.de there is a new DIY project, in which we show step by step how to build an automatic irrigation system for the garden including pond watering yourself. First we start with the garden irrigation planning, calculation, purchase and then we go to the routing and installation. We use components from Gardena and Hunter for garden irrigation and also integrate it with a Homematic switch actuator in the Smarthome, so that the irrigation can be controlled fully automatically or via a smartphone and tablet. Enjoy reading and build your own garden watering system!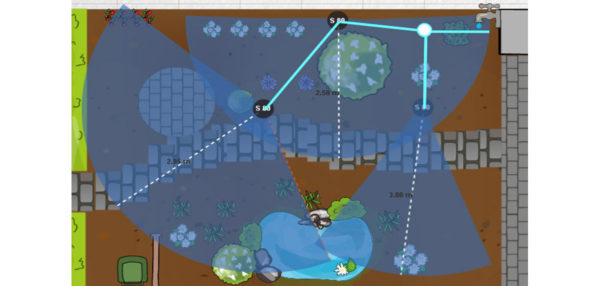 This is what we have in mind …
We would like to install a smart, automatic garden watering system to be able to automatically water all plants in the garden either at the push of a button or according to the time of day, or later still by means of a moisture sensor in the event of drought, and also create a filling option for the pond.
This is what we need …
For this we use a Gardena valve box, Gardena sprinkler system laying pipe (25 mm PE pipe), Gardena 25 mm pipe connector Quick&Easy connection technology, Hunter solenoid valves, Hunter mounting units, Hunter PROS-04 retractable nozzle housing with 10cm riser, Hunter spray nozzles with adjustable sector from 0° to 360°, Hunter Swing Joint SJ-7512, Tangit TIF21 Uni-Lock thread sealing thread, Vemer AC 24V power supply, AC-DC Buck Converter AC 24V to DC12V 3A step down module and a Homematic HM-LC-Sw4-PCB 4-channel switching actuator as a complete kit. In addition, the usual accessories and tools such as screwdriver, soldering iron, solder, knife, side cutter, scissors, saw if necessary, Wago terminals (221-412, 221-413, 221-415), cable ties, waterproof housing or freezer bag.
Here you can buy the required products …
Here you can buy the Homematic switching actuator.
Here you can buy Hunter solenoid valves and sprinklers.
Here you can order Gardena valve box V3 and PE pipe.
Before we talk about the components that you need to build a garden irrigation system, we come to the planning of the irrigation system …