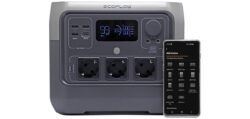 Powerstation functions in the EcoFlow App …
As we showed in the EcoFlow River 2 Pro Powerstation with 220W Solar Panel Video on our Funkyhome YouTube Channel, you can clearly see all the important features on the entry page.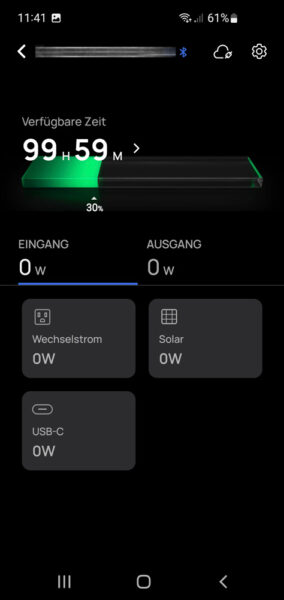 Starting at the top with the name of the power station (by default the serial number), next to it a small blue icon, indicating the current connection type – in our case Bluetooth, next to it the separate cloud icon, the gear wheel for further settings. Below that, you can see the available time if the current draw remains as high as it currently is – in our case 0 watts, which is the highest possible time of 99 hours and 59 minutes. Below that, the battery level is displayed in percent – approx. 30% in the delivery state. Below that, you have two selection fields between input and output with the respective power consumption or power output in watts and below that, you can see the total values broken down again.
EcoFlow River 2 Pro Input …
Since we can charge the power station via the wall socket, via a solar panel or even via the front USB-C socket, these fields are displayed at the input.
EcoFlow River 2 Pro Output …
After selecting "Output" you see the fields AC, with which you can also switch the three 230 volt 50 Hz Schuko sockets on the front on and off, next to it the 12V DC button, with which you can switch the front 12 volt DC output together with the two DC5521 12V sockets on or off and below that you see two more fields with the power outputs of the two different USB socket types (2x USB Type-A and 1x USB Type-C).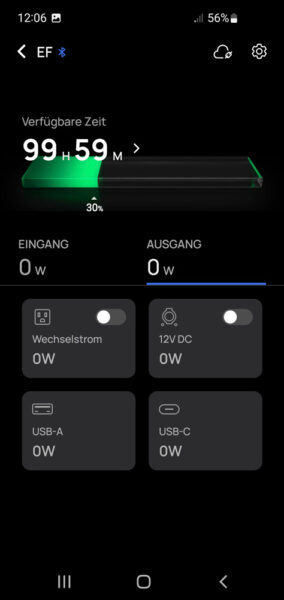 EcoFlow App additional feature …
By the way, there is a small but nice, well-hidden additional feature, because if you click once on the battery status, a small window opens with the battery level, battery life and battery temperature. We would wish that the battery temperature was always displayed on the homepage anyway, but this way you can quickly find out the battery temperature. It can also be accessed via the settings, which brings us to the Eco app's settings.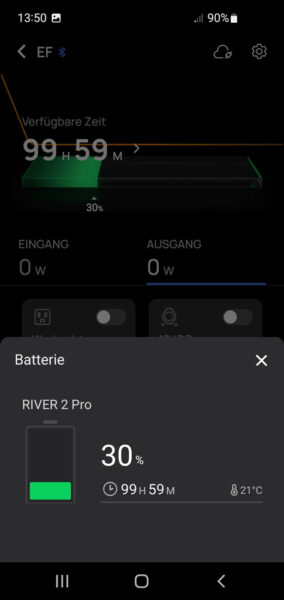 EcoFlow River 2 Settings in the EcoFlow App …