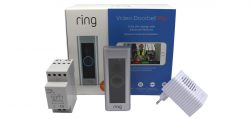 The technical data …
Manufacturer
Ring
Description
Ring Video Doorbell Pro
Product number
8VR4P6-0EU0 / 2AEUPBHALP011
Dimensions
11.43cm x 4.67cm x 2.03cm (HxWxD)
Measured: 115mm x 47mm x 24mm (HxWxD)
Weight
approx. 108 Gram Ring Video Doorbell Pro Weight
Power supply
16-24 VAC
Description
Ring Chime
Product number
chime-int-bulk / 2AEUPBHACM001
Dimensions
6.985cm x 4.775cm x 3.302cm (HxWxD)
Measured: 70mm x 48mm x 37mm (HxWxD)
Weight
approx. 87 Gram Ring Chime Weight
Power supply
220–240 V, 50/60 Hz, 0.2A
Connectivity
802.11 b/g/n WLAN connectivity @ 2.4 GHz and 5 GHz
Minimum requirement
Requires a minimum upload speed of 1 Mbps, 2 Mbps is recommended

.


Audio
Two-way audio with noise cancellation
Video
1080p 1920×1080 HD video with infrared night vision and 160 degree field of view horizontally, 100 degree vertically
Other
Ring Video Doorbell Pro 1080p outdoor IP camera, IP44, anti-theft protection, speaker and microphone, -20.5°C – +48.5°C ambient temperature, manufacturer warranty 2 years on parts (according to manufacturer lifetime anti-theft protection), internal memory without MicroSD card slot.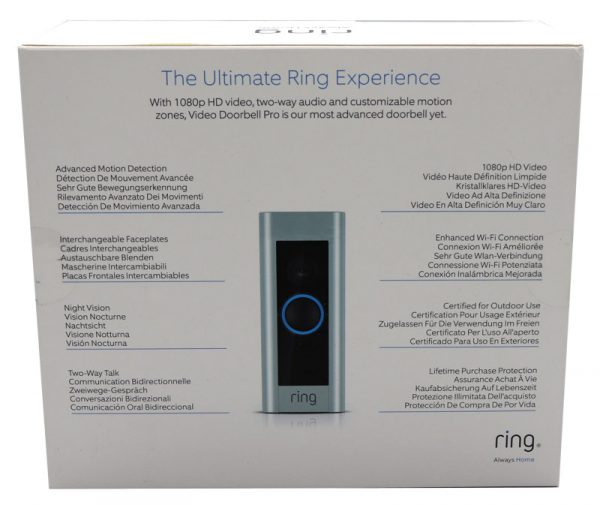 Ring Video Doorbell Pro Layout, design and features …