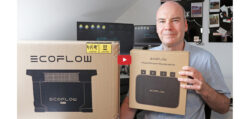 On our Funkyhome YouTube Channel we show a new video with English subtitles, where we assemble the very special EcoFlow PowerStream microinverter with battery, solar panel and power management via Smart Plugs to a balcony power plant with battery, which feeds the power during the day by solar panels into the house grid and in the evening or at stronger power demand by the 2kWh Delta 2 Max power station into the house grid. We will soon show you the detailed EcoFlow PowerStream review on Funkyhome.de as well!
Note: Please allow our cookies first to see this external content!
Discuss in our forum and share experiences about the EcoFlow PowerStream Video …
Here you can buy the EcoFlow PowerStream.
More Smarthome Videos in Funkyhome YouTube Channel …