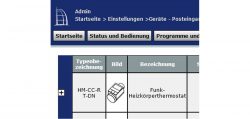 In this small Homematic Thermostat teaching tutorial on Funkyhome.de we show newcomers how to teach-in a Homematic radiator thermostat to the Homematic control unit and how to set up the radio thermostat. Furthermore, we give tips on how to upgrade the radiator thermostat.
Teaching the radiator thermostat to the Homematic CCU2 …
To teach the radiator thermostat to the CCU2, after entering the Homematic CCU2 surface top right, select Teach-in devices and start the teaching mode with the Teach-in HM device button. Now the control panel waits 60 seconds for new devices, which you want to connect to the control panel by pressing the Config button on the respective device. The radiator thermostat does not have this button, but you simply press the Boost button for longer than 3 seconds.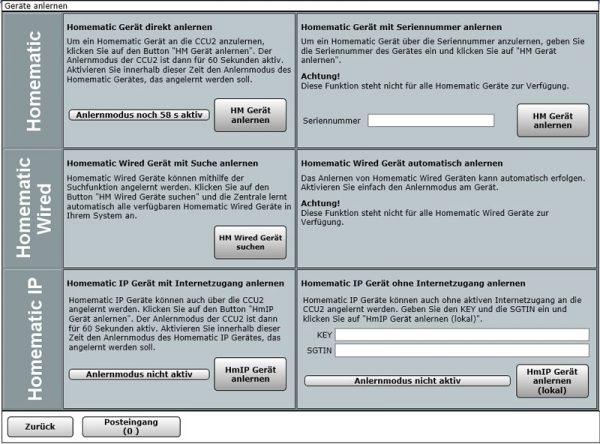 Now you click on the inbox where you can find the devices you have learnt. So don't be surprised if the device doesn't appear in the CCU2 yet, it has to be confirmed first! You can do this with all the devices you have learned and then rename them, assign them, program dependencies and adjust them with the previously mentioned points. Here you can see the radiator thermostat HM-CC-RT-DN and some other devices, which we will test later.


Now we can also enter the temperature profiles for each individual weekday or summarized via "Set" or later via "Settings -> Devices -> Set". These sections are already preset and can be adapted to the heating behaviour in the respective room as desired. The first line means, for example, that a target temperature of approx. 17 °C is set from 0 o'clock to 6 o'clock. In the case of underfloor heating or older cast iron radiators, the times should not be too short, as the room temperature is of course not reached immediately and the radiators will reheat even longer.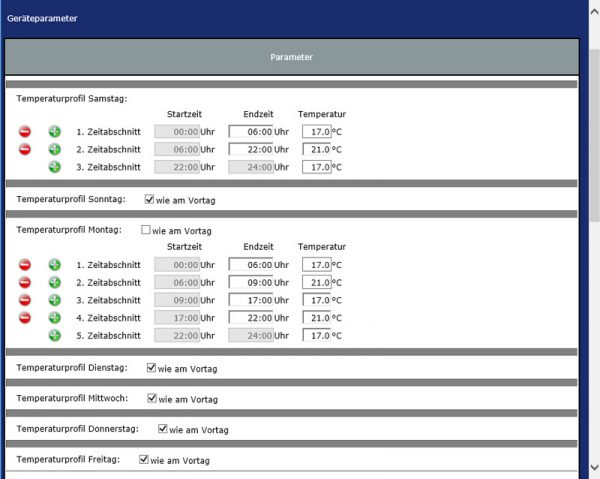 There are a few other interesting settings, such as descaling, where the radiator valve is completely opened and closed once to avoid deposits. In addition, there is also a detection if there is a temperature drop – e.g. due to an open window – and the heating should then be automatically lowered and if directly afterwards the heating should heat more for a few minutes (boost).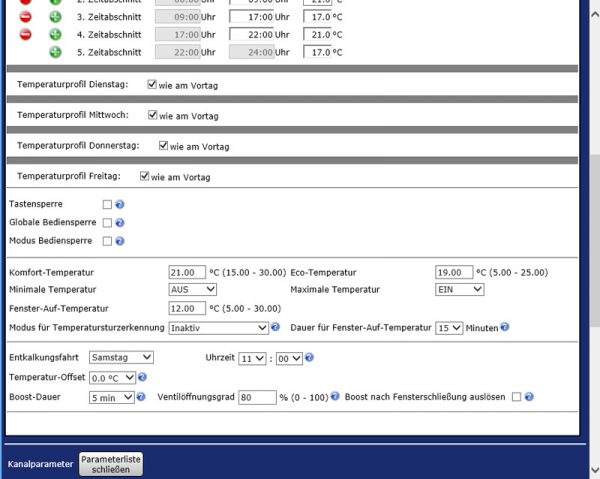 We hope that this little guide will help you and if you have any questions we will of course help you in our Homematic Forum.
Read the Homematic Radiator Thermostat …
Discuss in our forum and share experiences about the Thermostat learning guide …
Here you can order the Homematic Thermostat inexpensive as a kit.